Results 1 - 9 of 9 for cancer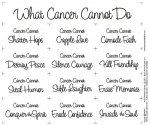 What Cancer Cannot Do Quilt Fabric Panel
UPCs:
680, 680, ...
Manufacturer #s:
680BW, 680BN, ...
Twelve inspirational quotes in defiance of
"cancer"
! Blocks finish to 6" X 3". Hand printed on 100% Kona Cotton in black print on natural or white cotton. Free downloadable quilt pattern! *Now available printed on pink fabric!
$8.50
Ribbons of Hope Quilt Pattern ONLY
UPC:
56800
Our Ribbons of Hope pattern is made specifically for our "What Cancer Cannot Do" fabric panel. The quilt finished to 46" x 55" and features a large ribbon design.
$10.00
I Believe Angel Pin
Remember loved ones who have been affected by
"cancer"
with this 2" x 2" "I believe" angel pin.
$6.00
Let's Fight Together Panel
UPCs:
721, 721
"Let's Fight Together" is comfort for kids fighting
"cancer"
. The panel has 12 - 5" squares and comes in either white or natural colored 100% Kona Cotton.
$8.50
Let's Fight Together Quilt Kit
UPC:
57210
Make a quilt for someone in your life fighting
"cancer"
. We've made it easier for you with this quilt kit in 6 bright colors. Finished quilt measures 38" x 55".
$39.50
Home
Helping you personalize your quilting with our hand-printed focal fabrics!
Select Your Free Pattern
Getting Your Free Pattern is Easy! Simply click on one of the images below and it will open as a .pdf file for you to print or download.