Well Behaved Women Quilt Fabric Panel

"Well-behaved women seldom make history" says it all! White fabric with black print quilt panel.


Color:

Price

$ 8.50

Quantity: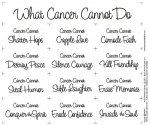 What Cancer Cannot Do Quilt Fabric Panel

Twelve inspirational quotes in defiance of cancer! Blocks finish to 6" X 3". Hand printed on 100% Kona Cotton in black print on natural or white cotton. Free downloadable quilt pattern! *Now available printed on pink fabric!


Color:

Price

$ 8.50

Quantity:






Word for all Occasions Quilt Fabric Panel

15 Quilt signature labels finishing to 5" X 3.5" each hand printed with black ink on white or natural fabric. Each label proclaims a different scriptural verse as a perfect compliment to our Comfort of Psalms series or suitable for any occasion.


Color:

Price

$ 8.50

Quantity:






Words of Christmas Quilt Fabric Panel

This panel is a take off of our ???Fruit of the Spirit??? panel. We have put 9 words that remind us of the Holiday season: Noel Miracles Angel Blessings Peace Baby Hope Love and Joy. Each finishes 5??? square. Along with the banner.


Color:

Price

$ 8.50

Quantity:






Words to Live By Quilt Fabric Panel

Ten bold words to inspire and motivate finish to 3" X 9" and give a quilter a kaleidoscope of options! Great for graduation gifts! Purchase alone or with our Comfort of Psalms pattern or Happy Apple Quilt's Praises & Promises pattern.


Color:

Price

$ 8.50

Quantity: