All Iowa Shop Hop Panel 2019

All Iowa Shop Hop 2019 panel. Large block is 22? x 22-1/4?. The panel also includes two small blocks measuring 10-1/2? x 10-3/4". On sale while supplies last (for retail only).


SALE

$ 8.50 $ 7.00
Quantity:







For Evergreen Pattern

For Evergreen pattern designed by Wendy Hager.


SALE

$ 12.00 $ 10.00
Quantity:






Quilter's Delight Pack

This package includes 4 of our funniest fabric panels that will surely give you a chuckle. Panels included are "A Room of My Own", "Therapy in Session", "Quilter's Search Engine", and "Inventory Control." It also includes the bonus Therapy in Session qu


SALE

$ 44.00 $ 34.00
Quantity: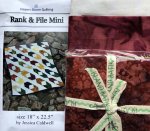 Rank and File Kit

Rank & File Kit includes a 42 piece package of 5" charm squares, background, binding fabric and pattern! Everything except batting & backing. Finished size is 18" X 22.5".


SALE

$ 31.95 $ 26.00
Quantity: