AVALANCHE! Sewing Machine Cozy Kit

Includes fabric for quilt top backing and binding with pattern and hand printed Avalanche fabric panel. Cozy fits contemporary standard size sewing machine for example Janome 6600.


Price

$ 35.50

Quantity: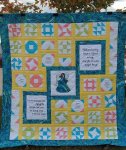 Believe in Angels Quilt Kit

We hope our "Believe in Angels" pattern will inspire you to quilt! Quilt finishes to 57" x 62". This quilt kit includes our "Believe in Angels" hand-printed fabric panel in white.


Color:

SALE

$ 84.50 $ 50.70
Quantity:






Coffee Time Quilt Kit

The Coffee Time Quilt Kit includes pattern and "Coffee Time" hand printed brown on natural colored fabric panel and fabric for the top and binding.


Price

$ 59.95

Quantity:






Forever Sisters Quilt Kit

Let us pick the fabric for you to make it easy for you to create this quilt with our Forever Sisters fabric panel. This pattern is exclusively for our Forever Sisters Panel, created for the P.E.O. 2019 Convention of International Chapter. A portion of th


Price

$ 32.95

Quantity:






Glorious Grandchild Baby Quilt Kit

Celebrate your precious grandchildren! Kit comes with Glorious Grandchild Pattern, fabric panel and coordinating fabric for quilt top and binding. Hand printed fat quarter comes in white with black ink. Panel has 12 verses for the grandchildren in our li


Price

$ 39.50

Quantity:






Guiding Stars Quilt Kit

Finished quilt measures 45" x 51". This quilt kit comes with the comfort of Psalms II Panel. The quilt pattern showcases verses from the Bible with bright red stars and floral border.


SALE

$ 54.95 $ 49.75
Quantity:






Hexagon Table Topper Kit

Make a colorful Hexagon Table Topper from this kit. Makes a 32" x 37" table topper with option for larger topper with purchase of additional fabric.


Price

$ 19.95

Quantity:






John 3:16 Quilt Kit

We've made a kit that's easy and quick to put together with our John 3:16 panel. Quilt Kit includes fabric for quilt top and binding to make a 20" x 24" quilt. Pattern included.


SALE

$ 17.95 $ 13.99
Quantity:






Let's Fight Together Quilt Kit

Make a quilt for someone in your life fighting cancer. We've made it easier for you with this quilt kit in 6 bright colors. Finished quilt measures 38" x 55".


Price

$ 39.50

Quantity:






Nurses Call the Shots Bag Kit

This fun kit includes Charming Totes #3 Pattern by Whistlepig Creek Productions our hand printed Nurses Call The Shots fabric panel fabric for lining fabric for cuff straps and finishing. Color our hand printed fabric with FabricMate Dye Pens. Pens in


Price

$ 37.50

Quantity:






Quilter's Search Engine Quilt Kit

Cut and piece this easy-to-make wall hanging using our hand printed Quilter's Search Engine panel and 8 saying squares from Things Quilter's Really Think III or IV panel.


Price

$ 25.00

Quantity: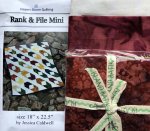 Rank and File Kit

Rank & File Kit includes a 42 piece package of 5" charm squares, background, binding fabric and pattern! Everything except batting & backing. Finished size is 18" X 22.5".


SALE

$ 31.95 $ 26.00
Quantity:






Rejoice! Quilt Kit

Rejoice with gladness! Create this beautiful quilt featuring a cross in purple, gold and multi. Quilt finishes to 48" x 57".


Price

$ 71.25

Quantity:






Retirement Lane Quilt Kit

Now you can delight your friends and loved ones with a quilt made with our Retirement Lane fabric panel and fabric quilt kit. There are two versions available - one for a guy and one for a gal. They are sure to get a laugh from - and enjoy the sentiment


Gender:

Price

$ 38.50

Quantity:






Seasons of Life Quilt Fabric Kit

This fabric packet includes fabric for quilt top and binding pattern and our hand printed Seasons of Life fabric panel. Backing and batting not included.


Price

$ 53.95

Quantity:






Tassel Time Kit

This quilt finishes to 34 1/2" to 34 1/2". Kit includes pattern, panel, fabric for quilt top, and binding (backing and batting not included).


Price

$ 41.25

Quantity:






Therapy In Session Quilt Kit

Finished size of quilt is 35" x 27". The hand printed fat quarter is white fabric with black print.


Price

$ 31.95

Quantity:






Well Behaved Women Apron Kit

Make an apron with our "Well Behaved Women" fabric panel. Apron works well for cooking or sewing!


Price

$ 42.95

Quantity:






Well Behaved Women Tote Bag Kit

Express yourself with this yellow and blue "Well Behaved Women" Tote Bag.


Price

$ 39.95

Quantity:






Wine a Bit... Quilt Kit

Celebrate friends and wine with this quilt kit with hand-printed fabric panel (in Natural), pattern and fabric for top. Quilt finishes to 25" x 25".


Price

$ 36.00

Quantity: