May 2019 Newsletter

Hello to all of our quilting friends out there!


It's May, and we've designed a new panel, two new patterns and redesigned a T-shirt for you all to enjoy. Also, if you happen to be in the Kansas City area this weekend, please stop in and see us at the the 2019 Quilt Market.

Our new panel is "Baskets of Blessings" and contains 2 Psalms 126:5 and 67:6. Both of these sayings fit nicely into our newest pattern "Baskets of Blessings". We tried something a little different and set the entire quilt on point!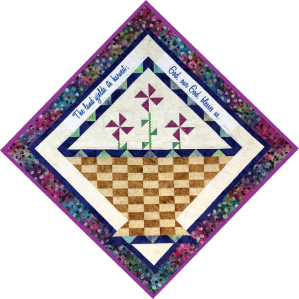 We have designed a new "Blocks of Love" pattern that is

fun and easy to make

. This pattern pairs with our "Friends Indeed" panel, and works perfectly with a border fabric as the outer border.



And, here it is, our redesigned "Lead me NOT into....Temptation" T-shirt! Many of you have asked for a different style neck on our shirts, so we printed the "Temptation" shirts on a v-neck shirt made with super soft cotton fabric. The shirts are Purple with White printing.



For our Shop Iowa Friends, we have the All Iowa Shop Hop (AISH) fabrics available for pre-order. We've heard that many shops are running low on the panel fabric. We have plenty, so give us a call at 1-800-419-2812 to place your order. Yardage is $12.98 and panel is $8.75 each. Book is available at our shop too.



Just a reminder, we are now closed on Mondays, so our shop hours are Tuesday-Friday from 11:00-4:30 and Saturday 10:00-4:30. Also, there is road repair happening on Lincoln Way west of Nevada, so to get to our shop it's best to use Highway 30 and turn North on West 18th Street. We're looking forward to see you all!

We hope that the flowers are blooming where you are, even if it's a dandelion!


Happy Quilting!
Your Block Party Studios family