Nurse Fabrics - Great for Masks and More!
Dear Quilters,

We here at Block Party Studios pray that you are doing well and staying healthy during this COVID 19 social distancing time. We know times are really different
right now, but if your sewing machine is in working order, let the quilting continue!

Some seamstresses are choosing to make masks for vulnerable front line workers.
Here is a very recent article explaining why we should save the N95 masks for the medical and rescue workers, but homemade masks are good for other citizens who want a little extra safety when they are out of their home.

https://www.cnet.com/how-to/homemade-face-masks-and-coronavirus-new-cdc-guidelines-expected-and-everything-to-know/

Here is a pattern for a mask.

We now have coordinating Nurse Fabric in stock for supporting nursing friends or making masks! Heartbeat and Nurses Symbol Fabrics may be purchased in 1 yard
increments. Nurses Call the Shots Fabric Panel are sold by the fat quarter.






Tassel Time!



We know unfortunately many college and even high school graduations are being
cancelled across the nation. But, you can still celebrate the graduates in your lives
with our Tassel Time fabric and quilt pattern. Help them feel special for all they
have accomplished despite the disappointment of ceremony cancellations.






Example of Finished


Tassel Time Quilt

Click here for Pattern & Panel.
$17.00

Tassel Time Pattern ONLY

$10.00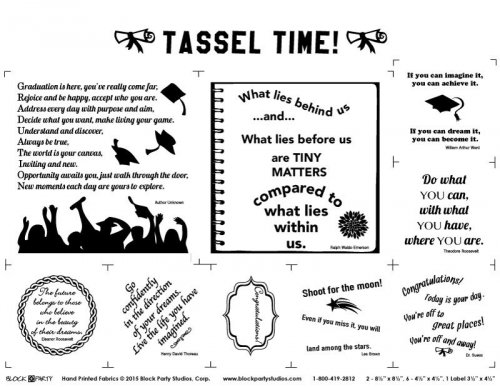 Tassel Time Fabric Panel
$8.50
Father's Day
And last but not least, believe it or not, Father's Day is just around the corner too.
We have "She Quilts, I Cook" T-shirt for him! Image is printed on light gray heather T-shirts. Available in sizes M - XXXL.


Happy Quilting,

Dani Tran
Block Party Studios

P.S. For more themed fabrics for quilting life's moments, go to blockpartystudios.com.