AISH (All Iowa Shop Hop) Table Runner Quilt Kit

Celebrate Iowa! Quilt an easy colorful table runner using the 2019 Iowa Shop Hop Fabric and the Newfangled Pinwheels Pattern by tiger Lily Press. Colors of the Fabric are yellow, red, blue and green. Finished quilt measures 50.5" x 17".


SALE

$ 31.50 $ 27.50
Quantity:







For Evergreen Pattern

For Evergreen pattern designed by Wendy Hager.


SALE

$ 12.00 $ 10.00
Quantity:






International Quilt Festival Quilt Kit

This all-batik fabric quilt kit features 12 blocks from 12 different vendors from the 2019 Houston International Quilt Festival, including one block representing Block Party Studios.


SALE

$ 92.50 $ 81.95
Quantity:






Quilter's Delight Pack

This package includes 4 of our funniest fabric panels that will surely give you a chuckle. Panels included are "A Room of My Own", "Therapy in Session", "Quilter's Search Engine", and "Inventory Control." It also includes the bonus Therapy in Session qu


SALE

$ 44.00 $ 34.00
Quantity: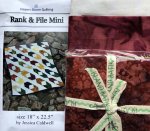 Rank and File Kit

Rank & File Kit includes a 42 piece package of 5" charm squares, background, binding fabric and pattern! Everything except batting & backing. Finished size is 18" X 22.5".


SALE

$ 31.95 $ 26.00
Quantity: